Player versus Player (PvP)
PvP in ganeral
PvP in Chains of darkness takes the form of one long running competition that never ends. Your goal is to climb as high as you can up the leader-board and then fight to maintain your rank. The higher your position, the more Honor Coins (PvP currency) you will accumulate per hour, that can then be spent in the PvP shop.
You can start PvP from the Multiplayer menu. After you tapped Arena, you will see the following screen:
Starting at the top you can see your rank. Keep this as high as you can.

Below that is your 'Defence Team'. You can either auto choose or set up manually. This is the team that other PvP players will encounter when they choose to battle you, so make it as strong as you can.

Next you can see your 'Earning rate'. Depending on how high your rank is, this rate will change so you are earning more or less Honor Coins per hour. These coins also generate when you are offline too. If you want to collect the Honor Coins you have generated, simply press 'Receive' in the accumulation section.

Rules. Click here to read, well, the rules. Also you can find information about the Tournament here.

PvP History. Here is a log of recent battles you have taken part in. You can also replay the battles here and see how your rank was affected by the outcomes.

Remaining Battles. This shows you how many PvP battles you have left to take part in per day (it's worth noting you get the chance to purchase extra PvP battles when you reach VIP3).

Cooldown. After a battle, you go into a state of cooldown (10 min) before you can fight again. You can speed this up with a tiny amount of Gold (20g).
Challanging an opponent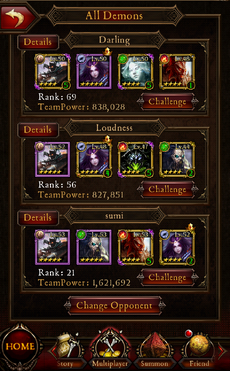 You may tap on the "Choose Opponent" button to select a fellow player's defence team. Once you selected the opposing team, the battle automatically starts. Both teamy are controlled by AI.
Why is PvP played in Auto, and Manual is not allowed?
The answer is simple. We wanted a level playing field. Where only the toughness of your demons mattered and differing playing styles and techniques (and maybe even glitches and exploits) could not affect the outcome. By having both your opponent and your deck AI controlled, this puts both teams on an even keel.
PvP strategies
[Coming soon]
PvP events
The Brawl
The Brawl PvP event takes place between June 8th - June 15th.
Community content is available under
CC-BY-SA
unless otherwise noted.